Welcome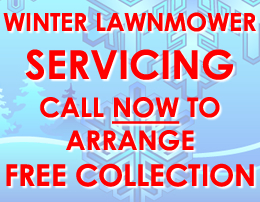 We specialise in lawn mower sales, lawn mower repairs and lawn mower servicing in Wakefield.
We collect and return your lawn mower FREE OF CHARGE (discretionary) fully serviced by our trained technicians.
With 28 year experience of servicing and fixing lawn mowers, there's not a problem we can't fix with your lawn mower. Our workshop is quick to service and fix your lawnmower ensuring you have it back in time for the next cut - guaranteed.
We service and repair domestic and commercial lawn mowers
To arrange collection of your lawn mower, please either call us FREE on 0800 542 0976 or 01924 262878 or email us at info@lawnmowerswakefield.co.uk.
Sports club lawnmower repairs and servicing are our speciality:
• Cricket Clubs
• Football Clubs
• Rugby Clubs
• Bowling Greens
• Golf Clubs
Above all, we guarantee you total satisfaction with our service and you will be impressed with how competitive we are too - we have built our business on our reputation and promise not to let you down.
Call or email us today to put us to the test.